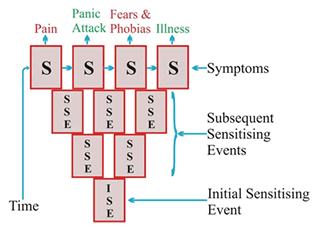 How an issue evolves into what it is today notice the upside down pyramid to the right. This represents how your problem has evolved. The brick on the bottom is the first situation in your life which has started the building process. It represents some situation, thought or idea that has occurred in your past which was too painful to deal with at the time. All by itself it does not amount to much; however, given the right circumstances and enough reinforcement in subsequent days, months and years (represented by the next three layers of bricks) it can develop into some real troublesome symptoms (the top layer of bricks). This is where you currently are with this issue, although you may not realize it as it may be shrouded among many other pyramids you have constructed over the years. Each brick on the top layer, one of your possible many pyramids, could represent a different symptom. Some common symptoms are compulsive eating, low self-esteem, insecurity, headaches, drug abuse, anxiety, panic attacks, chronic illnesses, etc. Through the HEART system, we can quickly find and cleanse the root experience (first brick) and the major secondary experiences (next 3 layers of bricks) of these old feelings and perceptions. This will result in minimal to zero resistance allowing Direct Suggestion to lead to lasting, positive changes.
Feelings are meant to come and go triggers in the now, bring up the trances of the past. Example: Anxiety. What is anxiety? There's something in the now that I am thinking about (or the near future) that is creating a negative reaction in me. Anxiety is just a symptom of too much adrenaline from repressed emotions. It's not the events that cause the damage to our well-being, it's how we respond to them. Stress & anxiety is a natural part of our daily lives. It provides us with input that we need in order to choose which reactions are needed for the current situation causing the stress and anxiety.
How's that work then? when we came into this world we were holistic. As babies we go through the flow of our emotions quickly and come back into alignment to our holistic mind, that is when our body-mind, conscious-mind and subconscious-mind are in homeostasis (all working as one). However as we grow up we became adulterated by all those around us with their thoughts, ideas, perceptions, patterns that took us out of alignment with our true authentic self. We started to splinter off, break apart into what we call the conscious, subconscious and the body. It's important to understand that all three parts have to come back into union. We need to express the physical body sensation along with the subconscious emotion along with the conscious word(s) to describe what it is that has been held onto to clear and cleanse what's been held inside so the wisdom, clarity and understanding can come forth. The wholeness of our minds needs the connection of all three to complete and integrate all parts so we can come back into balance and peace, back into autonomy and harmony, to be our true authentic selves.
Miracles happen although wonders can transpire in one session, significant results usually are produced in 6 to 8 sessions (about one week apart). Each following session tends to be much more successful because the mind/body connection learns through experience and your confidence increases, which helps you to make successful, life enhancing changes.